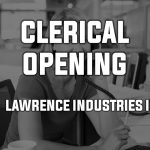 Are you detail-oriented, organized, and well-versed in accounting software like Sage 50? Do you thrive in a fast-paced environment and excel at managing payables, receivables, and shipping logistics? If so, we have the perfect opportunity for you!
Responsibilities: As the Clerical Position – Accounting and Logistics Specialist, you will play a crucial role in ensuring the smooth functioning of our financial and logistical operations. Your primary responsibilities will include, but are not limited to:
Accounting using Sage 50: Manage and maintain accurate financial records utilizing Sage 50 accounting software, including data entry, invoicing, billing, and reconciling accounts.
Payables and Receivables: Process accounts payable invoices, verify billing accuracy, and facilitate timely payment to vendors. Handle accounts receivable tasks, including generating invoices, tracking payments, and managing collections.
Shipping Logistics: Coordinate shipping and logistics for outgoing orders, ensuring timely and cost-effective delivery to customers. Work closely with shipping carriers and freight companies to ensure accurate tracking and documentation.
Record Keeping: Maintain comprehensive and organized records of financial transactions, shipments, and related documentation.
Communication: Collaborate effectively with internal teams and external partners to resolve any accounting or shipping discrepancies and provide exceptional customer service.
Problem Solving: Identify and address any issues or inconsistencies in accounting or logistical processes, recommending and implementing improvements where necessary.
Qualifications: To be successful in this role, the ideal candidate should possess the following qualifications:
Experience: Minimum of 2 years of experience in clerical or administrative roles, with a strong emphasis on accounting functions using Sage 50 or a similar software.
Accounting Proficiency: Proven expertise in handling payables, receivables, and financial record-keeping. Demonstrated familiarity with Sage 50 or similar accounting software is essential.
Logistics Knowledge: Familiarity with shipping logistics, including coordinating shipments, tracking orders, and managing customs documentation.
Organizational Skills: Exceptional organizational skills with a keen eye for detail to ensure accuracy in all financial and logistical processes.
Communication: Excellent verbal and written communication skills to interact effectively with internal teams and external partners.
Problem Solving: Strong analytical and problem-solving abilities to resolve discrepancies and identify process improvements.
Team Player: Collaborative and flexible, able to work well within a team environment while also being capable of handling individual responsibilities effectively.
How to Apply: If you are a motivated individual with the necessary qualifications and expertise, we encourage you to apply for this position. Please submit your updated resume, cover letter, and any relevant certifications in the link here.
Note: We appreciate all applications, but only shortlisted candidates will be contacted for further selection rounds.
Join our dynamic team and be a key player in driving our financial success and ensuring exceptional logistical operations. Apply now and embark on an exciting career journey with Lawrence Industries Inc.